Bessey Ridge Wreaths is open for the 2023 Season! Merry Christmas!
Bessey Ridge Wreaths is proud to sustainably harvest balsam fir, pine, and cedar from the evergreen forests of Downeast Maine. The greens or "tips" are pruned from the trees in a manner that enhances future growth. The harvest starts in early November when frosty nights arrive and the needles are "set" on the branches. Browse our Maine balsam wreaths here – they make great gifts!
Fresh Maine Balsam Wreaths Shipped to You
Wreaths ship UPS next day from November 13th through December 14th.


Save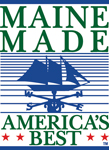 Our wreaths and holiday centerpieces are handcrafted in the traditional method by our neighbors and friends. Busy fingers hand-tie the pieces and fashion cheery velvet and tartan ribbon into beautiful bows.
We will be happy to send a wreath or centerpiece to that special relative or friend on your Christmas list. Treat your friends and family with a little of Maine this holiday season.